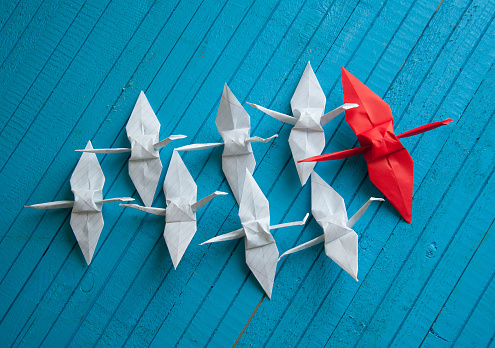 By Winnie Brignac Hart and Lorrie Brignac Lee
You may have a solid business strategy and plan. You have an excellent product or service, talented and dedicated employees, and a rock star sales and marketing team. You may be doing all these things right, but if you don't stand out in the marketplace, you are missing out on opportunities every day.
Why is this? Today we are bombarded with marketing messages from every side; and the fact is – to most consumers, competing products look almost identical.
To stand out, you need to be more of what makes you who you are – those values, passions, talents, and experiences that make your business what it is. These are the positive qualities that your customers already appreciate. This set of expectations, memories, stories, and relationships – together with visual elements – are a company's brand. A familiar and trusted brand still has the ability to cut through the sensory overload of today's marketing messaging. The obvious question is: How does a brand become familiar and trusted? And for emerging businesses, how can they stand out from their competitors in a way that people learn to know and trust them?
The 8 Fundamentals of Standing Out in Business: How do you score in eight key areas: Purpose, Reputation, Visuality, Authenticity, Ideal Leads, Distinction, Strategy, and Mindset (Out of a total score of 20)?
(This survey is also available online http://www.TwinEngine.com/BTC.)
PURPOSE: The organization knows and lives its purpose; it knows what it stands for and is true to its beliefs
Purpose = Our purpose is clear, we know what we stand for, and it is consistently communicated
What We Stand For = We know what we stand for and it is consistently communicated internally and externally
REPUTATION: The organization monitors brand perception, industry trends and the competitive landscape
Key Issues = Organization stays updated on the key issues that its industry faces
Monitoring = Organization monitors what is being said about the brand and key competitors
VISUALITY: The outward appearance of the brand truly reflects who the organization is and the value it delivers
First Impression = The outward appearance of the brand truly reflects who the organization is and the value it delivers
Consistency = The brand is presented consistently on all channels internally and externally
AUTHENTICITY: The organization's messaging is consistent, true, genuine and communicates value propositions
Key Messages = The key messages of the organization are defined, shared and continuously updated
Voice = The brand voice is defined and consistent in all communications
Value Propositions = The organization has defined and shares primary and secondary value propositions
Elevator Speech = Each team member can consistently respond to the question 'What do you do?'
LEADS: Consistent funnel of ideal leads is nurtured and managed
Lead Strategy = A strategy is defined to nurture and manage leads
Ideal Leads = Team members can identify ideal leads and know profiles, motivations and behaviors
DISTINCTION: Stands out among its competitors, influencers and industry thought leaders
Distinct Advantage = The distinct advantage that separates from the competition is defined
Take Off Campaign = Organization develops and launches an annual internal 'Take Off' theme and campaign
STRATEGY: A 12-month marketing strategy is in force and aligned with the organization's goals
Marketing Plan = A 12-month marketing plan is in place and updated quarterly
Alignment = The marketing plan is in alignment with the strategic business plan and core initiatives
Annual Planning = An annual meeting identifies business and marketing initiatives for the year
Editorial Calendar = Organization maintains a monthly messaging strategy and editorial calendar
MINDSET: Focus and commitment to achieve desired results Number 1 = The number 1 priority is defined and updated quarterly
Disciplined Mindset = The team is focused and has a disciplined mindset
Top 5 = The team identifies the top 5 marketing initiatives and monitors monthly
Strengthening the 8 fundamentals of your brand will produce substantial benefits. You'll know where you are relative to your competition. You'll learn how to create consistent messaging to your ideal lead to increase engagement. Your business strategy and marketing strategy will be in alignment and you'll be able to execute plans more effectively. You'll know what makes your brand distinct.
Winnie Brignac Hart and Lorrie Brignac Lee of TwinEngine bring 25+ years of marketing experience to leveraging their twin talents to help companies translate traditional marketing channels into forward-thinking solutions. They have built a reputation as inspired, award-winning designers and savvy interpreters of business brand and personality. Their most recent book collaboration, Stand Out: Tools To Master The 8 Fundamentals Of Standing Out In Business, is available on Amazon.com.