Save $200 Through Oct 31!

6 New Rules of B2B Sales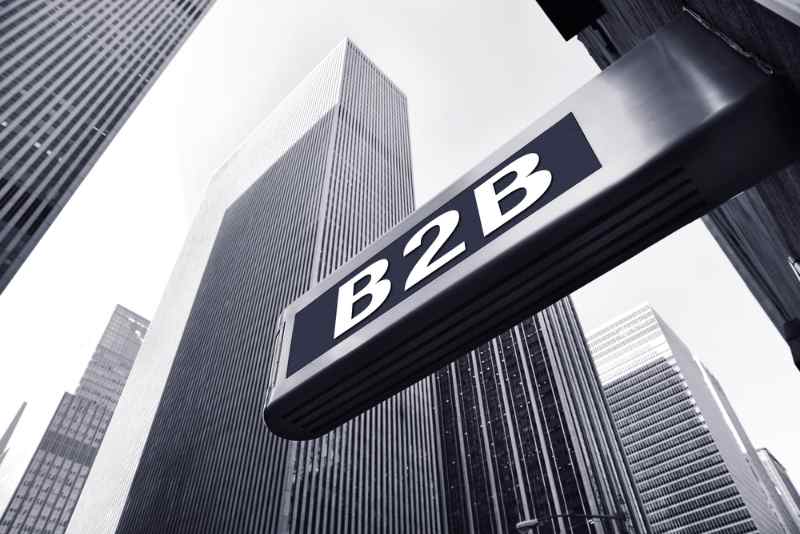 The B2B sales process is undergoing a transformation. Here's what you need to know to successfully sell B2B today.
By Rieva Lesonsky
Are your B2B business's revenues falling short? Perhaps it's your sales process? Is it keeping pace with today's B2B buyer? Here are six new rules of B2B sales you need to understand.
1—A new generation of B2B buyers is in charge
Millennials are taking over the B2B buyer role. Nearly half (45%) of B2B technology buyers are between 25 and 34 years old. By comparison, just 30% are aged 35 to 44. Millennials have grown up with technology and they conduct the B2B buying process differently than older generations. They expect to purchase B2B products and services the way they shop for anything else: by going online, doing research and getting input from their peers.
2—The B2B buying process is getting more complicated
More than six in 10 companies surveyed by Demand Gen Report say their purchasing process has gotten longer. Some 45% of B2B buyers say they're using more sources to gather information and spending more time researching purchases before they pull the trigger. In addition, there are more cooks in the kitchen—nearly 80% of buyers say up to six people are involved in the buying decision.
3—The B2B buying process is moving online
By 2020 55% of B2B buyers will research half or more of their business purchases online, Forrester predicts. More and more, buyers are gathering their own information before they ever reach out to your business to speak to a sales rep or ask for a quote. This makes your online presence more important than ever before.
If you're not selling your products online yet, what are you waiting for? Alibaba.com is offering a new program that allows U.S. small and midsized businesses to sell on its global e-commerce marketplace. Use Alibaba.com's proven tools to start selling to B2B buyers across the country or across the world. It's a great way to get started in online B2B sales fast, without having to build your own website from scratch.
Buyer research usually starts with a general online search, according to Harvard Business Review. That means it's vitally important to use the right keywords to attract those searchers to your business website or e-commerce sales channels. You also need to create content that uses your keywords and answers buyers' questions about your products. That could mean spec sheets, comparison charts, blog posts, detailed product descriptions and pricing information. Alibaba.com makes it easy to set up an online storefront (no coding needed), upload your entire product catalog, and add photos, videos, certifications and more to highlight your key selling points. You can also use Alibaba.com's digital advertising tools to attract even more buyers to your listings.
4—B2B buyers rely on others' opinions
B2B buyers talk to others in their industry to get opinions on your business and your products. They also go online to look for peer reviews and recommendations. Over half of the buyers in Demand Gen Report's survey say they are using social media as a buying research tool more than they used to, and 65% say they use online rating and review sites more than in the past. Make sure your business has a strong social media presence and encourage your satisfied customers to write reviews or recommend your business on LinkedIn.
5—Speed is of the essence
B2B sales may be taking longer than ever, but you still need to respond quickly to prospects' inquiries. Demand Gen Report found that timely responses are key to purchasing for two-thirds of B2B buyers. Alibaba.com's all-in-one client management system includes built-in CRM to keep track of leads and reach out to customers, plus a message center with real-time translation for instant responsiveness. All of this can help you communicate with prospects, track those interactions and manage your customers better.
6—B2B buyers want convenience
Just like B2C customers, B2B buyers want ease when it comes to purchasing. "The organizations that will succeed going forward will be those that materially simplify the purchase process for customers," says Gartner, which calls the new way of B2B selling "buyer enablement." Essentially, that means providing the information buyers need to make a decision, then making the purchase itself as easy as possible.
Alibaba.com provides a wide range of built-in tools to simplify sales for both B2B buyers and sellers. For example, you can respond to RFQs, set flexible pricing and negotiate directly with customers on quantities, pricing, and shipment. The site also calculates shipping rates, taxes and fees; converts prices into international currency; and lets you accept payments on platform.
Are you ready to start following the new rules of B2B sales? During "Super September," Alibaba.com is offering a special deal to new B2B sellers who join the platform. You'll get a discount on membership fees, plus free product showcases and ad credits to help increase their web traffic and sales. Bonus: If you mention this article, you'll get up to $500 in online advertising credits to spend on promoting your products.
How to Take the Stress Out of Going Global
You're excited about taking your business international—but a little anxious, too. Here's how to take the stress out of going global.
By Rieva Lesonsky
When you start selling globally, there's so much to think about: shipping and customs policies, how to accept payments from foreign customers, how to market your business overseas and more. Where do you start?
You can take a lot of the stress out of going global by selling your products online. Why would you travel overseas to meet prospects or partners, or set up an office in another country, when you can sell more easily, quickly and efficiently via e-commerce? Launching a website to sell to international customers, or modifying your existing website to do so, is one option—but it's not the only way. Developing your own website for international sales can be time-consuming and costly. Instead of reinventing the wheel, why not sell your products on an existing e-commerce marketing platform that has an international presence?
U.S. businesses have long used Alibaba.com to source products from around the world. Now, Alibaba.com is offering an enhanced program that allows U.S. small and midsized businesses to sell on the marketplace, too.
Advantages of E-Commerce Marketplaces
For novice global sellers, there are several advantages to selling on an existing marketplace.
Simple setup: Instead of designing your own website, you can use the e-commerce marketplace's proven methods to quickly set up an online storefront. You don't need any coding experience to set up an online storefront at Alibaba.com with product photos, videos, certifications and more. Use bulk upload functionality to quickly get your entire catalog online so you can start selling right away.
Trust: New customers will feel comfortable doing business with you because they trust the marketplace. This helps you make sales faster. Originally created to connect suppliers in China with overseas buyers, Alibaba.com has 20 years of experience in B2B e-commerce sales, making it one of the most trusted names in international trade.
Exposure: You get automatic exposure to millions of prospects who visit the e-commerce platform. This is much easier than having to market and promote your own website to build awareness internationally. For example, Alibaba.com has more than 10 million active small and medium-sized business buyers from over 190 countries and regions.
International tools: You can take advantage of built-in tools to help with some of the most challenging aspects of international sales, such as calculating shipping rates, converting prices into international currency, and determining taxes and other fees. On Alibaba.com, sellers can accept online payments, set flexible pricing or negotiate with customers directly. Alibaba.com's Message Center function offers real-time translation for clear communication.
Marketing tools: Most e-commerce marketplaces provide additional marketing tools to help grow your business. Alibaba.com's B2B sellers get an easy-to-use interface for building and managing a digital store, CRM and communications tools for customer relationship management, and digital marketing tools to target prospects. You can get even more exposure by participating in Alibaba.com sales, promotions and product showcases to highlight your business.
Education and assistance: E-commerce marketplaces offer sellers a wide range of educational tools to boost their success. Alibaba.com has plenty of tutorials, articles and tips to help you maximize the platform. You can also get in-person guidance at Alibaba.com's Build Up events, a nationwide network of workshops to help you learn how to sell on the platform. Alibaba.com's US-based Customer Success Team is also just a phone call away to help answer any questions you have, or help troubleshoot as you set up and operate your online storefront on Alibaba.com.
Business model. On most marketplaces, the more you sell, the more you pay in commission. Alibaba.com is using a different business model—charging an annual membership fee rather than a commission on sales, which means you get to keep more of the money you make.
Sell on Alibaba.com for Less During Super September
On Alibaba.com, you'll find businesses from around the U.S. and the world searching for products in over 40 different categories, including Agriculture, Food & Beverage, Beauty & Personal Care, Electrical, Health & Medical, Sports & Entertainment, Machinery, Consumer Electronics, Apparel and Home & Garden. Many of these companies are from the U.S., making Alibaba.com a great B2B platform even if you don't yet want to expand internationally.
During "Super September," B2B sellers who sign up will get a discount on membership fees. They'll also receive free product showcases and ad credits to help increase their web traffic and sales. Bonus: If you mention this article, you'll get up to $500 in online advertising credits to spend on promoting your products.
Going global stock photo by Brian A Jackson/Shutterstock
Are You Ready to Expand Your Business?
Are you considering expanding your business regionally, nationally or even globally? Ask yourself these questions first.
By Rieva Lesonsky
Before you make the big decision to expand your business into new markets, take some time to assess whether your business is really ready for the move. Here are eight questions you should ask yourself when deciding if now is the time to grow.
Is your business running smoothly? Your existing business should be stable and doing well financially before you take on the challenge of expansion. If your business is going through hiccups or sales are in decline, focus on fixing the existing problems before you even think about growing.
Do you have the right processes and people in place? Expanding your business to new markets will take most of your time and attention. To keep your existing business humming along during that time, you'll need to have proven operational systems and people who can manage your team.
Are you receiving requests for your products from new markets? If people across the country or overseas are contacting you to ask about making a purchase, this is a good indicator there's likely a demand for your product outside your current territory. (You'll still need to do market research to confirm this; see step 7.)
Do you have enough capital to finance your growth plans? You'll need sufficient capital for the initial investment required until your expansion begins to turn a profit. A healthy cash flow is also essential, since you'll have additional expenses during the expansion stage.
Do you understand the rules? If you're considering global expansion, it's important to fully understand the regulations, payment issues, and laws involved in selling overseas. For example, shipping and customs costs can eat up a lot of your profit if you aren't prepared for these expenses. You may also need to change your packaging or even your product to meet overseas standards.
What relationships do you have that can help you expand? For example, do you have in-house expertise, or will you need to hire new employees? Do you have relationships with other businesses that can assist in distribution, sales and marketing of your product in the new market? If not, what partnerships could you form to help you?
How big is the new market? Conduct the same type of market research you did when planning your startup. How big is the market for your product in the new region? Is it growing or shrinking? Who are your competitors in that market and what share of the market can you realistically hope to capture? gov is a great resource for conducting market research, identifying potential overseas markets, and learning more about doing business globally.
What distribution channels will work best for your products and market? You may want to sell to resellers or retailers in the new market, sell directly to customers online, or sell through a network of salespeople. Each has its pros and cons, so consider which makes the most sense for you. For example, selling direct to customers online can be an affordable way to enter a new market without all the headaches of working with overseas resellers.
As you consider all of these elements, it will become clear whether expansion is a natural next step—or whether you need to wait a while. If the latter, use the time to streamline your business operations, improve your cash flow and learn all you can about the market you want to enter.
If you decide you're ready to expand now, take the time to write a business plan for your expansion. Just as with starting a business, writing a business plan helps you think through all the steps to growth, foresee how you'll handle any potential problems, and create a road map for success.
Alibaba.com, the world's largest B2B marketplace, provides tools and services to help small and midsized businesses source and sell globally—real-time translation, payment protection, and local sales and support, to name a few.  During "Super September," B2B sellers who sign up will get a discount on membership fees. They'll also receive free product showcases and ad credits to help increase their web traffic and sales. Bonus: If you mention this article, you'll get up to $500 in online advertising credits to spend on promoting your products.
Expansion stock photo by optimarc/Shutterstock
What is Super September? (Now Extended!)
What is Super September? It's an annual program from Alibaba.com which offers special discounts and promotions for business buyers and sellers. If you sign up to be an Alibaba.com seller between now and September 30, you're eligible to receive 10% off your annual membership fee. You are also entitled to up to $500 in ad credits to help you boost traffic and sales by mentioning this post: click here.
While Alibaba.com and Super September have been around, this is the first time that U.S.-based sellers can benefit from Super September. This summer Alibaba.com opened its massive marketplace platform to U.S. manufacturers, wholesalers and distributors. Who wouldn't want a piece of the nearly $24 trillion global B2B e-commerce market?
Alibaba.com says the enhanced channel, plus a new network of industry partners "is part of a broader push to enable 30 million SMBs in the U.S. to better sell and source by using the site."
The platform is already in more than 190 countries/regions around the world, with 10 million active business buyers. The mission, according to John Caplan, head of North America B2B at Alibaba Group, is to "empower entrepreneurs and help them succeed on their own terms. We are reshaping B2B commerce by providing the tools and services [American SMBs need] to compete and succeed in today's global marketplace."
A better experience
There are a lot of new features for sellers on Alibaba.com. You can easily build and manage a digital store that reaches business buyers from the U.S. and around the world using the simple interface. You also get CRM, communications and digital marketing tools to help you target customers, and an online payment solution. Worried about support? Don't be—there's a U.S.-based Customer Success team to help you as you join the platform. You'll get digital support around the clock and customer service during regular business hours.
Alibaba.com says its improved the site's search function, so you can "get faster and more-accurate results when buyers are sourcing on the site."
Reaching buyers
The site boasts over 40 different categories of products, including, agriculture, beauty & personal care, electrical, health & medical, sports & entertainment, machinery, consumer electronics, apparel, home & garden.
As I mentioned there are buyers on the site from more than 190 countries and regions. And the site is buzzing—10 million business buyers log in monthly and 300,000 business inquiries are sent every day.
Is the enhanced Alibaba.com for you?
Ideal sellers:
Sell at least 10 products to other businesses
Have $500,000+ annual revenue
And having some export experience is a plus
Super September
Signing up for the platform in September gives you all that—and the special September deals including:
Reduced (10% off) annual membership fees
Exclusive digital advertising credits of up to $500 to spend on the platform when you mention this article/ blog