24 Things Small Business Owners Need to Know: #SmallBusinessWeek Edition
By Rieva Lesonsky
1—Entrepreneurial Outlook
The Spring 2019 Small Business Owner Report from Bank of America reveals entrepreneurs have some concerns, yet remain "largely optimistic" about their businesses with revenue forecasts, growth and hiring plans holding steady since last fall.
For more insight, check out the infographic below.
2—5 Tips for Providing Exceptional Service—Without an Enterprise Budget
Guest post by Holger Reisinger, SVP of Business Solutions, Jabra
1—Enable employees to wear many hats: In a small business, an engineer, accountant or floor associate should all be able to deliver effective customer service. In the event that the typically assigned employee is unable to help a customer, another employee should be able to step in. Leadership needs to understand the value in training all employees on customer service to ensure a seamless experience across the organization. Furthermore, this can help a business stay lean by not employing extra customer service representatives to fill in for absent employees.
2—Understand the importance of customer phone inquiries: When a customer calls a business, they have typically already checked a website for answers, been unable to find the help they need and are now at the peak of an issue. These calls should not be treated as an afterthought. Each call needs to be marked as critical and given the highest level of attention.
3—Eliminate customer frustrations through effective interactions: Cut down long wait times by ensuring employees have hands-free access to phones so customer calls can be answered even while employees are focusing on other tasks. Utilize advanced communication devices that remove background noise so that the customer feels the associate is completely focused on them and is able to communicate clearly and efficiently.
4—Maximize productivity on the move: It's a common misconception that enterprise employees are the only ones that travel for work and SMB employees are always in a small office or backroom. That's completely false. SMB employees are just as mobile, if not more, than enterprise workers. It's incredibly important for an SMB employee to stay connected and productive on-the-go as lost hours of work can drastically affect a small business. Equip employees with the tools they need to stay productive and connected no matter where they are.
5—Streamline communication across the business: Just because there are fewer number of employees doesn't mean communication across those employees should be taken lightly. Senior members of the business likely have little time to check-in with other employees so it's critical that messages and questions reach them and aren't lost on a misplaced Post-it note. Take advantage of voice assistants and unified collaboration technology that promotes fast cross-company communication. This will allow the business to handle customer inquiries and issues faster.
3—The Importance of Digital Marketing
According to HigherVisibility's new survey of small business owners nationwide, 88% of  business owners believe their business needs an online presence to be successful. However, 41.8% of respondents say they had no goal associated with their website's use, or that the sole purpose of their site was for general brand awareness.
"Our study shows small business owners are generally aware they need to be online to be successful but lack the expertise to make the most of their online presence," Managing Partner Scott Langdon says.
How important are these digital marketing elements to your business's success? 
61% of respondents say an online presence is "extremely important," while 27% call it "somewhat important" to their business's success.
When it comes to Social Media, 57.5% call it "extremely important" and an additional 25.2% say it's "somewhat important."
6% say Google My Business Map Listings are "extremely important," while 27.4% found Map Listings to be "somewhat important"
Only 36% of small business owners consider Paid Search "extremely important" and 27.7% says it's "somewhat important."
Additional findings
The study also found regional differences. Small business owners in the Northeast (69.83%) and on the West Coast (68.66%) were more likely to say an online presence was "extremely important," compare to businesses in the South (58.39%) and Midwest (50.3%).
The most common primary goal for small business owners was "General Brand Awareness/Provide Information" at 38.1%. Other common goals were "E-commerce/Product Sales" (23.3%) and to "Generate Phone Calls/Lead Submissions" (20%).
6% of small business owners either used an online website builder to create their website or designed and coded the website themselves.
3% of the small business owners currently allocate only $1-$499 of their marketing budget on digital marketing activities. An additional 6.7% spend nothing at all on digital marketing practices. That is considerably low for a marketing medium that they feel is vital to their overall success.
If they were to hire an SEO company, 68.8% of small business owners would expect "significant SEO results" within the first three months of the campaign.
For more info check the infographic below from Higher Visibility.
4— The Impact of Amazon
Amazon just published its 2019 SMB Impact Report highlighting how the company works with the millions of SMBs, content creators, and developers. SMBs are growing their businesses with Amazon by selling in Amazon's stores, publishing via Kindle Direct Publishing, using Amazon Web Services, as well as operating as a delivery service provider and building Alexa skills and devices. This year's report revealed findings from across Amazon's businesses, including: More than 1.9 million SMBs, content creators, and developers in the U.S. are currently working with Amazon; SMBs selling in Amazon's stores have created an estimated 1.6 million jobs worldwide, up from 900,000 in 2017; thousands of independent authors earned more than $50,000, with more than a thousand surpassing $100,000 in royalties in 2018; Amazon gave more than $500 million in AWS credits to help startups accelerate their growth and development in 2018. .
"Amazon's mission is to be Earth's most customer-centric company. Among the customers we're focused on are small businesses and entrepreneurs. As we work to help them grow their businesses, we are making big investments: in our delivery network, data centers, AI research, robotics. Since 2011, we've invested tens of billions to help SMBs succeed working with Amazon," says Jeff Wilke, CEO, Amazon Worldwide Consumer. "Amazon is inspired by the type of courage and inventiveness that makes entrepreneurs tick. And our customers benefit from the products, books, videos and skills they produce. We salute the millions of entrepreneurs, creators, and developers around the world whose impressive efforts are summarized in this report."
Findings
SMBs selling in Amazon's stores in the U.S. and worldwide are growing. Third-party gross physical merchandise sales—primarily comprised of SMBs selling in Amazon's stores—surpassed $160 billion in 2018 and make up more than half of the units sold in Amazon's stores.
The number of SMBs eclipsing $1 million in sales in Amazon's stores worldwide grew by 20%.
On average, U.S.-based SMBs sold more than 4,000 items per minute in Amazon's stores and earned more than $90,000.
Amazon lent U.S.-based SMBs more than $1 billion to build inventory and support their Amazon stores.
Kindle Direct Publishing (KDP) is enabling authors to publish and distribute their books to millions of readers around the world. In 2018, authors earned more than $260 million from the Kindle Direct Publishing Select Global Fund, totaling more than $840 million since the launch of Kindle Unlimited.
Since launch in 2007, hundreds of thousands of authors from around the world have self-published millions of books through KDP.
Amazon Web Services (AWS) is helping hundreds of thousands of SMBs and startups launch and scale their businesses. Tens of thousands of startups take advantage of specifically-tailored programs providing the resources they need to quickly get started on AWS—including credits, training, and support.
In 2018, Amazon gave more than $500 million in AWS credits to help startups accelerate their growth and development as they build their business.
To help support SMBs, content creators, and developers that are interested in working with Amazon, the new "Build Your Business with Amazon" website provides information on how to achieve success with help from Amazon. The company launched the new website to give businesses, entrepreneurs, authors, and developers a one-stop destination that curates many of the opportunities available to start or grow a business with Amazon. Visit the new "Build Your Business with Amazon" website to learn more.
To learn more about the millions of SMBs, content creators, and developers worldwide working with Amazon and view the full 2019 Amazon SMB Impact Report.
5—Building Your Business with Facebook
Facebook just launched some new tools to help small businesses grow: Automated Ads, Appointment Booking, Video Creative Tools and Blueprint training courses.
Automated adstakes the guesswork out of buying ads on Facebook, and makes it easier for SMBs to create tailored, effective ads that can run across both Facebook and Instagram. Campaigns can be created in four steps using existing business page and images. The majority of Facebook's 7 million active advertisers are small businesses—and they can't spend a lot of time becoming a marketing expert. Automated Ads was created to help SMBs get expert results without requiring marketing expertise.
Appointmentsmakes appointment-booking reliable and easy for service-based businesses on Facebook. It allows business owners to accept and manage appointments, customer information and send reminders, all from their phone.
New video creative toolshelp you build eye-catching video on your mobile phone in minutes.
Blueprint courses offer more education for small businesses both online and in person. Facebook is hosting over 200 small business training events this year globally. These digital and in-person trainings are a part of Facebook's pledgeto train 1 million workers and entrepreneurs in the digital skills needed in today's economy by 2020.
Today, over 90 million small businesses use Facebook to run their business—finding new customers, hiring employees or creating meaningful connections with their community.
6— Small Businesses are Unprepared for IoT
Linksys, the connected home and business division within newly merged Belkin International and Foxconn Interconnect Technology (FIT) entity, just released a survey conducted by Informa Engage, highlighting current trends and attitudes around small business' early deployments of IoT as well as the state of their network infrastructure.  According to the findings, SMBs need to rethink their IoT strategies to include making the necessary network investments before implementation.
"The benefits around security, energy efficiency, and general productivity that IoT devices offer are just too important to ignore and we expect their proliferation to continue. Each IoT device continuously adds growing bandwidth requirements a network must accommodate. Older networks were not designed with this in mind and adding more IoT devices here can seriously impact the overall performance of the existing network. Therefore, it's critical to have a robust network infrastructure that supports more capacity, better QoS controls, enhanced security, and more efficient Wi-Fi to properly manage the additional traffic and ensure reliable operation with less downtime," says Maggie Curran, vice president of sales, Belkin International. "As businesses continue to expand and grow into these integral new areas of technology, the investment need for network upgrades that guarantee critical business operations continue uninterrupted becomes key."
"Most respondents (69%) believe leveraging IP-based building automation within the next three years is very important for their organizations. Unfortunately, half cite network infrastructure and management limitations as the primary deterrent to making progress in that arena," says Kristin Letourneau, PhD, director of research, Informa Engage.
6 key takeaways
1—Outdated networks won't support endpoint growth and will hamper iot implementations. The typical respondent reports managing an estimated median 98 endpoints on their organizations' IP network, and anticipate adding a median 50 endpoints during the next three years. The survey also revealed that small businesses are using very outdated wireless networking equipment (eight years old) despite being in the process of adding more endpoints. Half the respondents reported using 802.11n or older equipment standards. For those who don't upgrade their network, there will not be enough capacity to accommodate more endpoints, resulting in downtime and unexpected delays.
2—Limited investment in network infrastructure in 2018. While only 45% reported increasing network infrastructure budgets year over year (2017-18), 94% will be adding endpoints by 2021. 55% of companies kept allocation the same or decreased spending this year. As small businesses add more endpoints and deploy IoT, it's critical to expand the network with more management and better QoS controls in order to get to a level where IoT can be more acceptable.
3—Limitations in current network infrastructure and management is the #1 deterrent to deploying smart office solutions. 49% cited the main deterrent to deploying IP-based building automation solutions is concern with limitations in network infrastructure and management.  Specific reasons cited include: network architecture and maintenance exceeds staff expertise or working capacity; network infrastructure not equipped for added power draw (PoE); network infrastructure is not sophisticated enough for QoS requirements; and network infrastructure can't accommodate more endpoints.
4—Office safety is a top priority for businesses. According to the survey, 69% of small businesses have immediate need or near term (within 3 years) consideration to deploy IP-based surveillance systems and 56% cited IP-based access control systems.
5—Growing interest in energy efficiency. Businesses also expressed interested in controlling the efficiency/consumption of power with 48% respondents looking to deploy IP-based power monitoring systems. IP-based lighting systems also made the list with 34% of small businesses starting to explore PoE lighting systems due to its ability for improved control over light quality and lower energy bills.
6—Outsourced IT on the rise. More than half of the respondents (59%) are currently in a partnership with an IT solutions provider or are interested in doing so in the near future. Small business networks are becoming more complicated, and as networks continue to grow and incorporate big data from IoT, businesses will rely heavily on IT solutions providers to navigate the complexity and challenges around IoT.
Check out the infographic below for more information.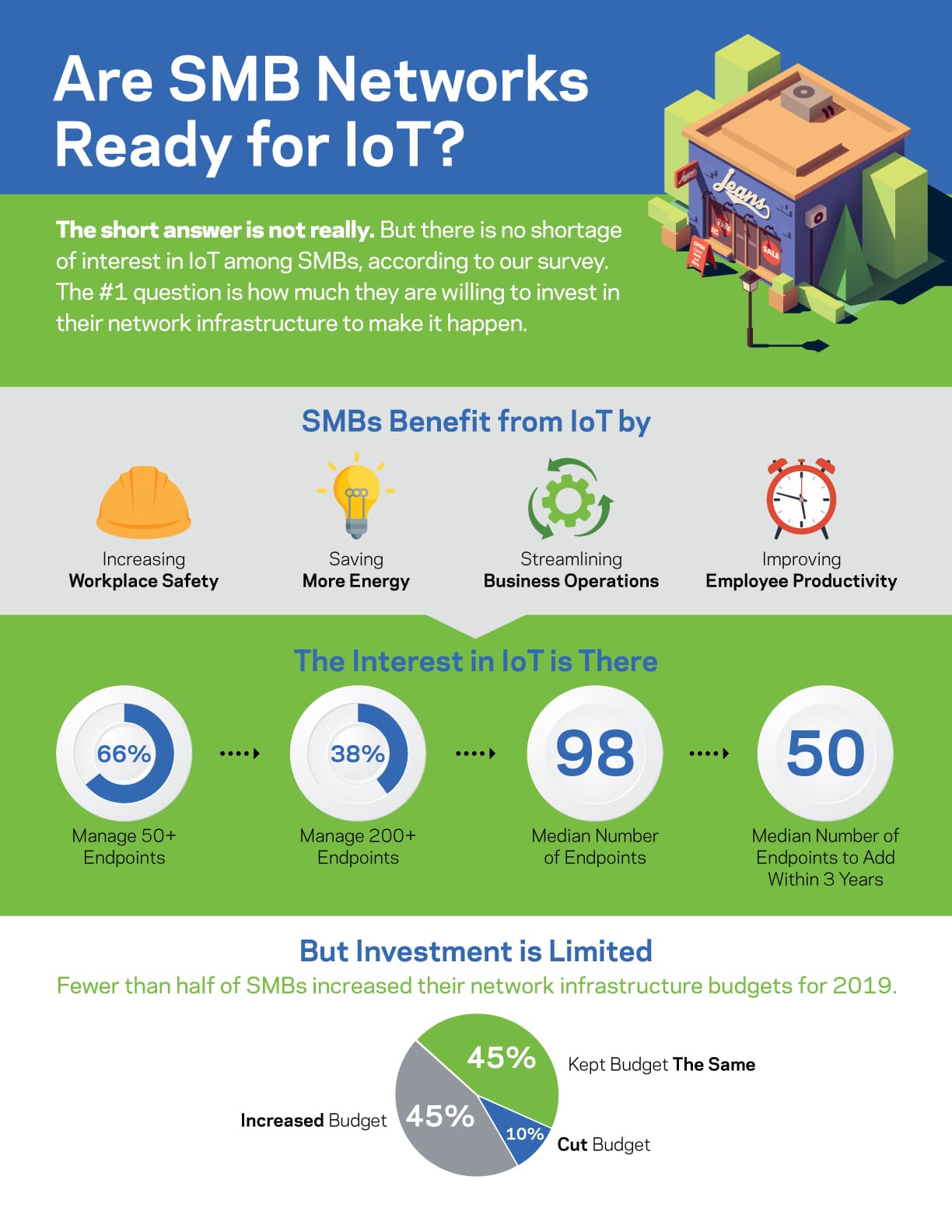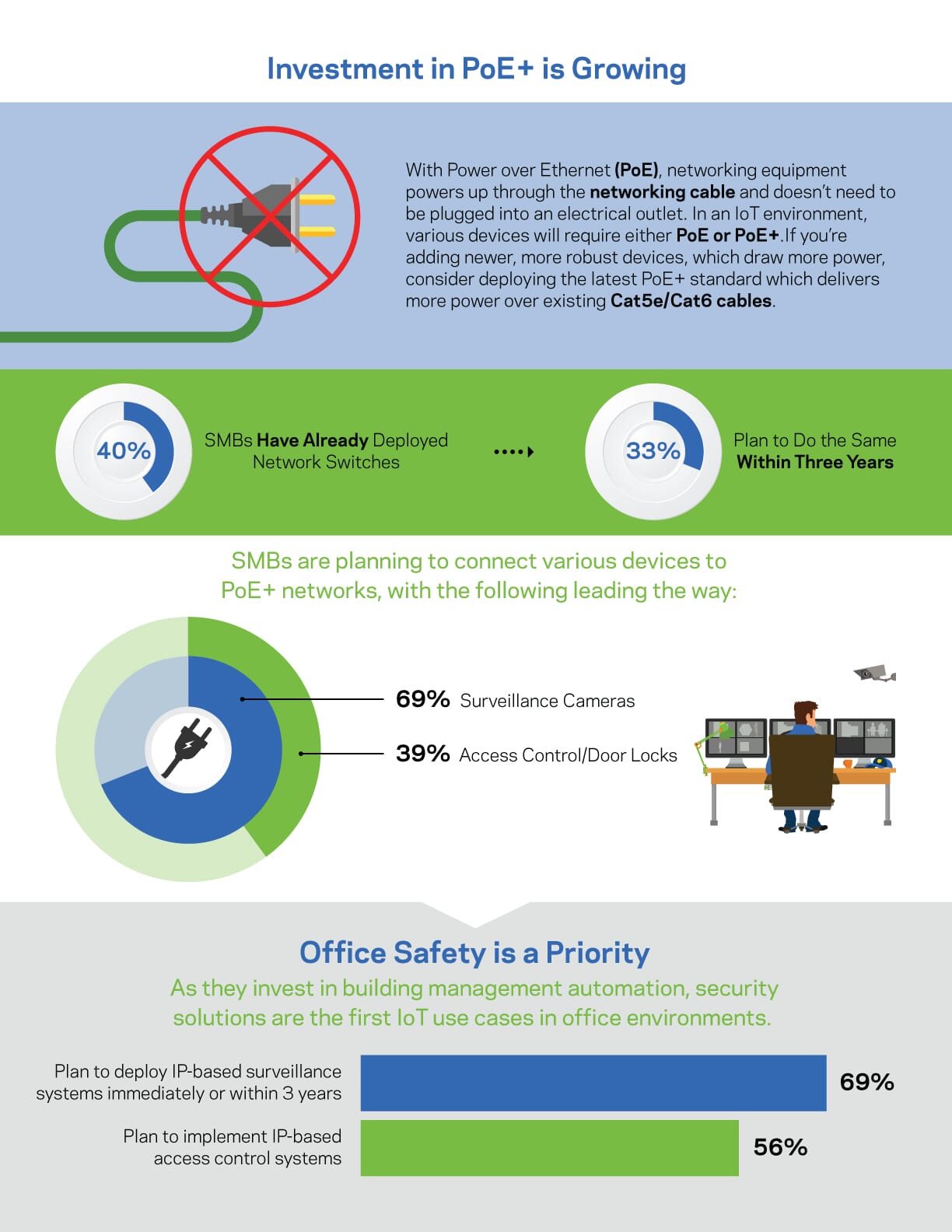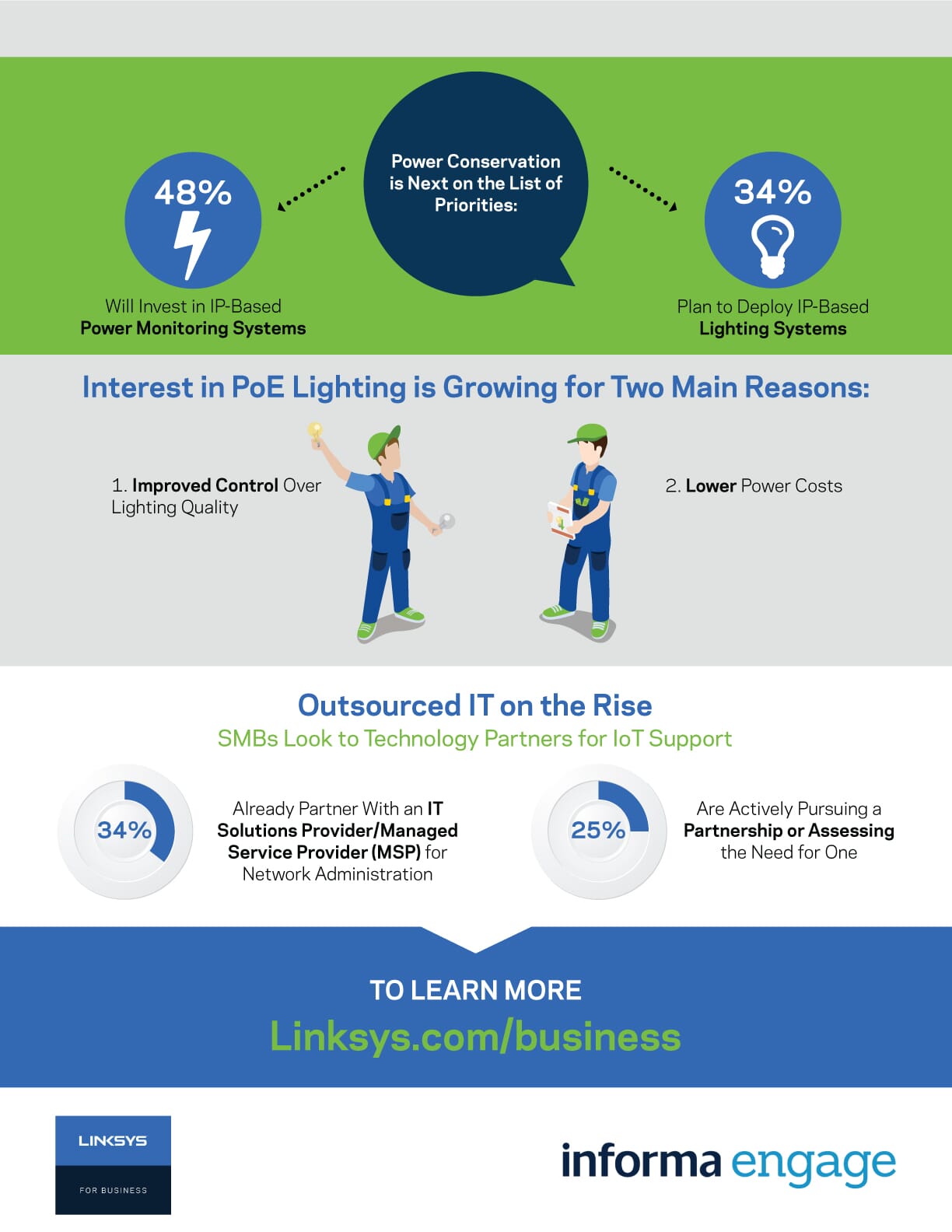 7—Workforce Vitality
Wages for U.S. workers grew 3.8% over the last year, increasing the average wage level by $1.04 to $28.40 an hour, according to the ADP Research Institute's Q1 2019 Workforce Vitality report. However, as wages rise, small businesses (fewer than 50 employees) are struggling to remain competitive in the job market. For these businesses, turnover is up 7.2% since this time last year—which is 1.2% higher than the turnover rate for businesses with more than 50 employees.  Additionally, while wage growth has accelerated by 2% for large businesses, we're seeing a slowdown of nearly 1% for small businesses.
"As employment growth slows and wages accelerate for both job holders and job switchers, all signs point to a scarcity of skilled talent in the labor market," says Ahu Yildirmaz, co-head of the ADP Research Institute. "This trend is further evidenced by the significant wage growth we've seen for new entrants in most industries, which is great news for college graduates poised to enter the workforce this spring."
Workers in the West outpaced other regions with 4.2% wage growth and had the highest employment growth at 4.2%. Job switchers also fared best in the West experiencing a wage growth of 7.8%. The Northeast experienced a negative employment growth of 0.3%, the worst among the regions. Workers in the South had the lowest wage growth at 3.6%. By firm size, workers at large firms had the highest wage growth rate at 4.9%, with employment growth at 3.2%.
The second quarter 2019 ADP Workforce Vitality Report will be released on Wednesday, July 24, 2019
8—Consumers Think Businesses Should Do More to Solve Social Issues
Most (53%) global consumers think brands can do more to solve social issues than government according to the new Small Business Study from HP. And the survey shows, the next generation of small business owners are looking to step up to the plate:
New generations are responding: With each new generation of small business owners the importance of driving positive change grows. Gen Z small business owners are 1.5 times more likely than baby boomers to be motivated solve a societal or environmental issue.
Redefining "Good for Business": Six out of ten Gen Z small business owners are motivated to build a business that challenges the status quo and are doing so in part by ensuring their business decisions align to their values, many of which center around societal justice.
The sacrifice it takes:Gen Z small business owners are more likely to make sacrifices for their business than other generations. Nearly nine in ten Gen Z small business owners globally reported facing challenges like lack of sleep, keeping up with latest technology, lack of motivation and lack of support, the highest of all generations.
Learn more in the infographic below.
9—Trends Every Growing Business Should Know
Salesforce just released its Small & Medium Business Trends Report which is filled with valuable information and insight.
Key findings
Demographics shape entrepreneurial experiences: Starting a business requires passion and stamina. Although most SMB leaders are driven individuals who wear many hats, there were found key differences in their experiences that are shaped by age and gender.
Access to capital is the top constraint on business activity for women but #2 for men.
Men are 45% more likely to say willingness to take risks is most important to running a successful business (24% vs. 17%), while women are 42% more likely to cite an innovative mindset (25% vs. 18%).
Compared with baby boomers/traditionalists, millennials/Gen Zers starting businesses are 183% more likely to be creating a side business.
Approximately three in five SMB leaders are challenged to hire the right talent, access capital, and find enough time in their day.
Customer expectations dictate investment plans: Today's customers have high expectations. When planning investments, SMBs prioritize capabilities that help them offer the personalized experiences that customers are looking for.
CRM is the leading priority for the technology budgets of growing SMBs.
53% of SMB owners feel they are at a competitive disadvantage versus enterprises when it comes to meeting customer expectations.
Medium-sized companies are 81% more likely than small companies to prioritize a CRM system, and 49% more likely to prioritize technology services that can help them scale.
58% of SMB leaders say meeting customer experience expectations is a challenge for growth over the next two years.
Advanced technology comes to SMBs: Technology is rapidly changing—even for SMBs.
On average, SMB leaders say they use 5.2 applications to run their businesses, with 31% using five or more.
Acquiring new customers is the most frequent obstacle (67%).
8% of SMBs are using AI today, and another 32% plan to use it within three years—a 310% projected growth rate.
46% of SMB owners believe their business is ready to use AI.
Trust matters above all else: In today's business landscape, trust isn't a commodity—it's a differentiator. SMBs take trust seriously in their relationships with customers, employees, and vendors—90% of SMB leaders value trust above all else in their relationships with customers.
You can find out more in this blog post.
10—How Much Do You Worry About Your Business—When You're Not at Work?  
Small business owners spend 17 days a year worrying about their business outside of work, according to new data from OnePoll on behalf of GoDaddy.
According to the study, 51% of small business owners say they have trouble "switching off" from work when on their free time and 41% say they often get pulled away to deal with business matters when they're trying to take a break. In fact, small business owners say they lose four hours of free time every week to handle business matters.
The survey also shows about 40% of SBOs spend between 1–3 hours talking on the phone every week for business, with 85% of those calls coming on their personal phones. However, nearly 40% say knowing whether an incoming call is for business or personal reasons would be helpful in managing their productivity and stress.
"Owning a business and trying to enjoy life outside work can be an especially tough balancing act," says Melissa Schneider, GoDaddy's trend expert. In fact, 22% say right now is the most stressed they've ever been about their businesses.
Why? The poll points to "money" as the top reason small business owners are stressed: specifically, whether or not they'll make enough of it.
The second biggest worry is about attracting customers. So how do SBOs retain and find new customers? Responding to customer inquiries in a timely manner was the number one answer (81%), answering calls professionally ranked second (64%) and having a dedicated phone number for all business matters (26%) was third.
"Seeing how much our customers rely on their personal phone for business matters inspired GoDaddy to shape an easy-to-use solution that can help small business owners stay organized and work more efficiently," Schneider says. "Our SmartLine app allows users to differentiate business and personal calls, so they can not only answer appropriately, but better manage time spent on business-related matters in their personal time."
With all the worrying and stress, only 29% of small business owners surveyed feel they have a very healthy work/life balance.
So how do SBOs create a healthier work/life balance? The top way was to prioritize taking care of themselves, closely followed by taking a vacation, having regular breaks and scheduling time with family and friends.
Top 5 ways SBOs maintain a healthy work/life balance
Taking care of myself: 64%
Taking a vacation: 56%
Take breaks: 52%
Taking time off when I say I am going to take time off: 50%
schedule time with family and friends: 50%
Not being afraid to say no: 43%
Top 5 SBO worries
Making enough money: 54%
Attracting customers: 45%
Having enough time for everything I have to do: 35%
Retaining customers: 32%
The economy: 31%
11—Is a Recession on the Way?
Small downward trend since 2017. Less than 30% say they plan to hire new employees or add any subcontractors this year, according to a recently released research report from Invoice2go.
A review of invoiced dollar amounts from the same sample set of 31,500 Invoice2go U.S.-based users, over the past three years, shows, the YOY growth rate across industry sectors dropped from 14% in 2017 to about 3% in 2018. And numbers from Q1 2019 showed a (negative) -3% growth rate compared to about 4% growth in Q1 2018.
Such negative growth raises concerns for the small business economy especially if the downward trend continues through Q2 2019 and beyond. A recession is defined as two consecutive quarters of negative growth.
"Small business—and more specifically, the 1-2-person 'micro businesses' that make up 92% of all American companies—is truly the backbone of the U.S. economy, so taking a critical data-based look at what's really happening according to the numbers is an important indicator for the country as a whole," says Greg Waldorf, CEO of Invoice2go, which primarily serves 1-2-person businesses. "And from what we are seeing in our own users' invoicing activity, it's hard to deny some clear signs pointing toward a downturn if not possible recession on the horizon."
Hottest growth states & sectors: Which micro business sectors—and which states—grew the most (in terms of invoiced dollar amounts between 2016-2018)? Outdoor services (e.g., landscaping, gardening, pest control), up 11%, followed by Construction (up 10%) topped the list. The industries that grew the least (in invoiced dollars) were Educational Services, (down -1%), Arts & Recreation (2% growth) and Technical Services (2% growth). Regionally, Rhode Island, which grew 18%, had the highest-growth rate, followed by Hawaii and Idaho (both up 15% since 2016).
Hiring plans: A March 2019 survey of Invoice2go users shows fewer than one in three plan to hire any new employees or add any subcontractors this year, despite belief by 58% of respondents that their revenues will increase in the year ahead. Notably, confidence levels correspond with the size of a respondent's company, i.e., the more employees a company has, the more bullish that business owner is on 2019. For example, 52% of respondents with 1-2 employees predicted growth this year, as compared to 72% of those employing 3-5 people and 74% of those employing 5-10 people.
There are more details in the full report.
12—Confident, Yet Wary
That's a good way to describe how small business owners (SBOs) feel as they expect larger increases in revenue this year than in 2018, despite growing trepidation about the national economy and inflation, according to the 2019 Small Business Survey conducted by TD Bank, America's Most Convenient Bank®. SBOs show continued optimism about their prospects, with 54% anticipating revenue growth.
Hiring also is on business owners' minds—23% will increase staff this year. To support and fuel growth plans, business owners are primarily focused on expanding product lines/services (46%) and production (39%) in 2019; 43% will seek credit.
What's not impacting the bottom line? Tax reform—64% of SBOs say they didn't benefit from tax code revisions. However, 90% think at least one of the provisions could benefit future filings.
While SBOs remain confident, they are watching external pressures that could challenge operations over the next 12 months. Their top obstacles include the health of the national economy (37%), inflation (21%) and finding qualified workers (18%).
Main Street matters: SBOs may feel some pressure from the economy and expansion, but their commitment to their communities remains a major priority. When asked what they do as a business owner to support their communities, 62% site using a bank with area locations; 40% name living in their business's neighborhood; 32% say participating in local activities such as charity events and volunteer work; and 25% state hiring employees who live in the area.
Why did they start their own businesses?
Desire to be their own boss (60%)
Passion for the industry (41%)
Desire to invest in and serve their local community (14%, which climbs to 28% for those under the age of 55)
"Small business owners frequently report a positive outlook for their businesses, but they need to create strategies that account for growing headwinds and plans for how to increase revenue while reducing costs," says Jay DesMarteau, Head of Commercial Specialty Segments at TD Bank.
Preparing for the future: Although many SBOs still value offering the "mom-and-pop" experience, longevity depends on making their businesses more efficient and attractive to customers. Not surprisingly, technology and digital investments, from banking transactions to point of sale systems, drive this evolution. SBOs report confidence in their abilities to use digital/online banking features (76%) and the latest online payments and POS technology (63%), showing they are committed to adapting to a changing consumer landscape and creating efficiencies that save resources.
SBOs are also more enthusiastic about integrating payments technology. When asked how they collect customer or vendor payments, respondents named electronic transfers like ACH (26%); person-to-person apps such as Zelle (23%) and e-commerce (24%) although checks/cash still rule. Many SBOs also view incorporating payments technology as an investment, with 12% of respondents adding mobile POS capabilities to their business offerings to increase revenue and/or profits.
Long-term planning also means creating a strategy for exiting that business. While retirement and succession planning are crucial, this doesn't appear to be a priority, with 59% of respondents stating they do not have a retirement/ succession plan in place, while 27% do and 14% are altering their strategy. Those who do have succession plans said they would:
Pass the business to family/co-workers (27%)
Close the business (22%)
Sell the business (17%)
DesMarteau says, "SBOs are wise to invest the same amount of effort into planning for their eventual exit as they put into revenue and payment strategies. Business owners should work with a financial planner to create a comprehensive plan that sets their business—and themselves—up for long-term success."
13—Are You Cyber Safe?
Cybersecurity demands of SMBs have become both a major risk and revenue opportunity to managed service providers (MSPs). This is according to research conducted by Vanson Bourne and commissioned by Continuum®, the proactive platform that integrates intelligent software with expert services for MSPs to scale dynamically and protect their clients.
Underserved and Unprepared: The State of SMB Cyber Security in 2019 draws on data collected in 2019 from SMBs across the United States, United Kingdom, France, Germany and Belgium. In addition to the risks for MSPs, the report also highlights the significant revenue opportunity for providers that deliver the cybersecurity services and solutions SMBs need to protect their businesses.
Vanson Bourne's research in the United States found that MSPs are at risk of losing their SMB clients if they don't provide competitive, comprehensive solutions to their clients. In fact 89% of SMBs surveyed would consider hiring a new MSP if they offered the right cybersecurity solution, and nearly 24% has already changed MSPs in the aftermath of a cyberattack.
To make matters more challenging for MSPs, the report highlights that clients will hold providers accountable for security issues even if their MSP is not currently providing them with cybersecurity solutions. Three in four SMBs who do not currently outsource cybersecurity would still hold their provider accountable in the event of a cyber attack
"SMBs are not just looking for cybersecurity protections, they are ready to invest more to protect their businesses," says Brian Downey, Senior Director, Security Product Management at Continuum. "It's clear from the report there is an economic opportunity for MSPs that get cybersecurity right, as they stand to not only win business from providers that don't, but also increase their revenue streams from their SMB clients and have a better chance of retaining their existing client base. If MSPs can deliver the right cybersecurity solutions to their end-clients, they will hold the competitive advantage in the SMB market."
Findings
Half of SMBs feel helpless to defend themselves from new forms of cyberattack
More than 1 in 4 have experienced at least one attack in the previous six months
Smaller organizations (10-99 employees) are not as worried about cyberattacks as larger ones (100 employees and above)
When it comes to defending against attacks:
SMB cybersecurity often stops short of incident response planning, cybersecurity insurance and having in-house cybersecurity experts
More than half believe their organization is more focused on response than prevention
And yet, nearly 3 in 4 say their cybersecurity protections are very good or excellent.
14—Consumers Believe Small Businesses are Important to their Community's Health
Jobber, a provider of home services management software, recently announced the results of a new survey that explored consumer insights towards small businesses, including how willing consumers are to support these businesses and the challenges small businesses face, such as 61% of respondents saying smalll businesses struggle to obtain new customers..
According to the survey, there is overwhelming support for small businesses today. In fact, 92% of those surveyed say small businesses are important to the health of their communities and 53% have worked for a small business at some point in their career or have been self-employed.
Supporting small businesses: Consumers are willing to make certain concessions to support a small business and believe these companies should receive government support to stay competitive.
41% are willing to pay more for goods and/or services.
76% believe small businesses should pay less in taxes or receive other government incentives compared to their larger competition.
Challenges facing the home services industry: Home service companies, which are defined as businesses that provide services, such as plumbing, landscaping, and cleaning, for residential homes, represent a significant segment of small businesses.
However, consumers displayed that they are unyielding when it comes to certain aspects of customer service associated with them.
To support a small business, 74% of respondents are not willing to schedule an appointment further in the future, if it can be scheduled sooner with a larger company.
When asked what would deter respondents from utilizing a small business that provides home services, 52% selected poor online ratings and 50% selected slow response times.
For scheduling appointments with small businesses that provide home services, 46% of respondents prefer to schedule via email, an online platform or a mobile app.
"Taking on the challenge of starting a small business is admirable, whether it is a retail shop or a local home service company," says Sam Pillar, CEO and cofounder of Jobber. "Consumers today realize the importance of these small businesses, want them to succeed and even go as far as a believing they should have specific government incentives; however, they are not willing to sacrifice certain customer experiences to do so."
15—The Essential Role Of Content For B2B Success
The Future of B2B Content 2019 report from Walker Sands reveals the B2B industry is undergoing a seismic shift as competition heats up and digital takes over. Content has emerged as a pivotal differentiator across B2B organizations and brands are recognizing its direct tie to business success. The report shows 98% of B2B companies recognize that content's performance justifies its cost.
The report also found B2B marketers are investing in short-form content channels to drive leads, increasingly reliant on external content partnerships and in need of greater collaboration across stakeholders for content strategy. Plus the report says video/multimedia is playing a growing role in the B2B content arena.
"Marketers can't remain stagnant when it comes to their content strategies," says Tim Morral, VP of editorial content at Walker Sands, and lead author of the report. "In the B2B world, buyers are demanding more engaging ways to receive information and interact with brands. Content marketers have the power to quickly adapt to these changing needs and drive revenue outcomes that make a difference to their organizations."
Key findings
B2B marketers expect content to generate new business: The top goals when producing content include boosting sales/converting customers (29%), building relationships with new customers (19%) and increasing brand awareness (18%).
Short-form content currently rules the roost: The greatest number of B2B organizations plan to produce more social (72%), website content (65%), video (63%) and blog posts (49%) in the next 12 months.
Buyers want more video/multimedia content: 69% of B2B marketers believe their target audiences will prefer video/multimedia content over written content in the next 12 months.
External content partnerships are standard: 95% say it's a priority to work with external agencies for content strategy/production in the next 12 months, and 40% say it's a high priority.
"Content is core to every B2B marketing function—it educates, drives leads and nurtures relationships," says Courtney Beasley, VP of marketing at Walker Sands. "This data reinforces the idea that marketers' focus should be on an integrated approach to content that leverages a combination of short-form content like social media, video and blogs, and long-form content like white papers, e-books and multimedia pages. Marketing is all about making a connection and content offers a great opportunity for marketers to facilitate and strengthen connections with their audiences."
You can download the full report here.
16—New Program Recognizes (and Awards) Small Business Owners
First Data's cloud-based mobile payment platform Clover just launched CloverAchievers—a contest and program designed to recognize and award small businesses in the U.S. that are "embodying the Clover ethos of striving to accomplish more than the status quo and punching above their weight in how they run their business, delight and serve their customers and contribute to their local communities."
"As an entrepreneur myself, launching a business and watching it grow, I personally understand the daily challenges business owners face in running and growing their businesses, says John Beatty, founder of Clover.
Clover is a market-leading point-of-sale platform with more than one million merchant devices used globally. Clover enables customers to pay using a debit/credit card in addition to smart pay options such as Apple, Google and Samsung Pay.
In 2019, CloverAchievers will provide grant awards to qualifying small businesses that enter for a chance to win a portion of $100K in cash and prizes. To be eligible, small businesses must be in the U.S. and Washington D.C. and have less than 1,500 employees. Businesses do not need to be current Clover customers to apply. Three winning businesses will receive a combination of a cash grant, a "Cloverover" (a Clover technology and equipment makeover) and a donation in their name towards an approved philanthropic organization of their choice.
Finalists will be announced by the end of August 2019, and three of those will be the CloverAchiever businesses, selected by a panel of judges that includes executives from Clover, First Data, Yelp and Inc., will be unveiled by end of September 2019.
Finalists and winners will be selected based on the following criteria that will include but not be limited to: Ability to effectively share uniqueness of business; clear and compelling expression of message; inspiration to others; current potential social/community impact; and relevance to meet basic contest objective.
Businesses have until July 30, 2019 to submit their online applications.
17—Work—as Viewed by Different Generations
Gen Z is now entering the workforce and many businesses are catering to their millennial workers. Porch surveyed people ages 18-81 about their opinions on career goals, salary, and familial pressures.
Highlights in the study:
The midlife salary seen as "prosper" by millennials was $62k, with the idea that "earning good money wasn't really about the number"
Millennials and Generation X were more likely to say their jobs were an obligation, rather than a path to a successful retirement
Generation X felt the most pressure to have a job by 18, whereas baby boomers and millennials felt more pressure to graduate with a Bachelors' degree
What are employers looking for in job candidates?
Chris Lewis, one of the creative strategists on the project, found these takeaways compelling:
Nearly 1 in 4 18-23- year-olds rate getting a graduate degree as "Not important."
2. 1/3 of 18-23-year-olds say getting married is "very important," while only ¼ of 24-30-year-olds feel that way.
3. Nearly a quarter of 18-23-year-olds say it's not important for them to have children, the second highest age range behind people over 50.
4. 18-23-year-olds were by far the age range who cares about landing a dream job the most—44% say it's "very important" to them. 24-30-year-olds were the next highest at just 26%.
5. 18-30-year-olds were much more likely to say it's important to learn another language. They say it's "very important" at nearly twice the rate of older respondents.
6. 18-23-year-olds placed an especially big emphasis for their future on travel—35% say it's very important to them
18—Digital Spring Cleaning Checklist for SMBs
Spring cleaning is not just for your home—if you own an SMB the National Cyber Security Alliance (NCSA) and the Better Business Bureau (BBB) have some tips to protect your business and your customers' data. Taking a few proactive steps to declutter, get organized and establish good practices will help safeguard your business against disruptive issues, which can cause chaos if your company's data is compromised.
Top "Take-Action Tips":
Lock down your login: Security is critical to protecting your customers' and employees' personal data. One of the first things everyone needs to do is ensure that passphrases are lengthy, unique and safely stored. In addition, fortify your accounts by adopting strong authentication, which adds another layer of protection.
Update your system and software: Stop procrastinating! Having the latest updates, security software, web browser, and operating system is one of the easiest ways to keep devices secure and protect data. This simple "digital to-do" will help keep cybercriminals at bay.
Back it up: Protect your workplace data by making copies or backups of your most important files. Whether it's your vendor database, employee contact information, or customer financial data, back up your files this spring and set a schedule to do so regularly.
To keep your business safe and secure, NCSA and BBB recommend establishing, communicating and continuously updating policies and procedures to aid in protecting your business from unforeseen cybersecurity and privacy issues.
Keep a clean machine
Update the software on all of your company's devices including POS systems and IoT devices.
Establish or update BYOD policies to limit the amount of risk that can be brought into the business from employee-owned and controlled devices.
Delete software and apps you are no longer using.
Teach employees good habits when it comes to maintaining clean and secure devices.
 Digital file purge
Establish and communicate records retention guidelines for your digital and physical records. Permanently and securely dispose of all old or unnecessary data.

See the BBB tips below for the proper disposal of electronically stored information.

Clean out your old email and empty deleted folders. If you need to keep old messages, move them to an archive.
Unsubscribe from newsletters, email alerts, and updates you no longer read.
Use the 3-2-1 rule to back up your business data: 3 backup copies, 2 different media types, 1 offline and in a separate location.
Check to see if there is a BBB Secure Your ID Day or similar event in your area. Many "shred day" events include safe destruction of electronic equipment and files, as well.
 Clean up your online presence
Own your online presence by reviewing the privacy and security settings on accounts you use. You should do this for both business accounts and personal accounts.
Control your role by reviewing and limiting who has administrative access to your online accounts. Grant access only to individuals who need it to complete their assigned job responsibilities. Allocate data access privileges based upon job duties, not job titles.
Clean up your social media presence by deleting old or unnecessary photos and by deleting accounts no longer in use.
Take care with what you share by updating or creating policies and procedures for what content should be/can be shared on your business social media accounts.
Web browsers should be updated to the most current versions for all internet-connected devices. Don't forget those devices beyond the office walls that remote or distributed workforces utilize.
 Dust off the plan
Cybersecurity should be part of any organization's continuity planning. Take time this spring to convene a cross-functional team to review your cybersecurity strategy. What are the most valuable assets you need to protect? How do you plan to protect those assets? How does the organization intend to detect vulnerabilities or breaches? How does the organization propose to respond to and recover from a cyber incident?
BBB has established user-friendly guidelines to help you with the safe disposal of electronically stored data. Be sure to prep your data in advance of participating in BBB's Secure Your ID Day:
Know what devices to digitally "shred": Computers and mobile phones aren't the only devices that capture and store sensitive, personal data. External hard drives and USBs, tape drives, embedded flash memory, wearables, networking equipment, and office tools like copiers, printers, and fax machines all contain valuable personal information and stored images.
Clear out stockpiles: If you have a stash of old hard drives or other devices – even if they're in a locked storage area – information still exists and could be stolen. Don't wait: Wipe and/or destroy unneeded hard drives as soon as possible.
Empty your trash or recycle bin on all devices and be certain to wipe and overwrite: Simply deleting and emptying the trash isn't enough to completely get rid of a file. You must permanently delete old files. Use a program that deletes the data, "wipes" it from your device and then overwrites it by putting random data in place of your information—that then cannot be retrieved.
Various overwriting and wiping tools are available for electronic devices. For devices like tape drives, remove any identifying information that may be written on labels before disposal, and use embedded flash memory or networking or office equipment to perform a full factory reset and verify that no potentially sensitive information still exists on the device.
Decide what to do with the device: Once the device is clean, you can sell it, trade it in, give it away, recycle it, or have it destroyed. Note the following:
Failed drives still contain data: On failed drives, wiping often fails, too; shredding/destruction is the practical disposal approach for failed drives. Avoid returning a failed drive to the manufacturer; you can purchase support that allows you to keep it – ­and then destroy it.
To be "shredded," a hard drive must be chipped into small pieces: Using a hammer to hit a drive only slows down a determined cybercriminal; instead, use a trusted shredding company to dispose of your old hard drives. Device shredding can often be the most time- and cost-effective option for disposing of a large number of drives.
You can learn more about online safety with NCSA's CyberSecure My Business™ or BBB's 5 Steps to Better Business Cybersecurity. CyberSecure My Business™, of which FedEx is a Founding Partner, Trend Micro is a Signature Sponsor and Infosec is a Contributing Sponsor, was created to help protect the SMB community's cybersecurity. It does so by offering free interactive training workshops, webinars and monthly newsletters summarizing the recent hot topics.
You can download your own checklist.
19—The Best Way to Celebrate National Small Business Week? Shop Local.
We're in the middle of National Small Business Week. Since 1963 this week has been designated to recognize the impact of America's entrepreneurs and small businesses. Community revitalization expert Quint Studer says the best way to celebrate and honor small businesses and local entrepreneurs this week—and all year long—is to do business with them.
Shopping locally gives small businesses a chance to showcase how good they are. They get face time with customers who might not regularly be in their stores and shops. And it shows consumers what they might be missing—the personal connections and experiences they crave but most likely won't get from online or big box retailers.
Ideally, this is more than making a few purchases one week, but instead, turns into a long-term relationship, whereby consumers begin to "shop local" on a regular basis.
"Supporting the small businesses in your community has never been more important," says Studer, author of Building a Vibrant Community: How Citizen-Powered Change Is Reshaping America and founder of Pensacola, Florida's Studer Community Institute. "Communities need to invest in their small businesses in a meaningful way as they are the key to economic revitalization."
Studer says there's a symbiotic relationship between residents and small business owners. They really need each other. Small businesses provide jobs and keep the dollars circulating locally. Their owners have an active and personal interest in the well-being of the community. They live there. Their kids go to school there. They care about what happens. "When wealth is created, business owners are more likely to turn around and reinvest in the community," he adds.
In many cases, small businesses have taken on an even bigger role. Studer says small businesses across America are being called to step in and fill the void created by the loss of their community's "pillar" institutions. By this he means the banks, hospitals, media outlets, etc. that used to be locally owned but that now—thanks to the changes brought about by globalization—exist as part of larger conglomerates.
"A few decades ago the owners of these 'pillar' businesses were committed to keeping their communities vibrant," he explains. "They knew their economic health depended on it. But now that the owners of these former 'pillars' live elsewhere, they just don't have the same intimate connection to the community."
It makes sense for small businesses to take the lead in pulling communities out of the economic slump many have been in for years. When communities are vibrant, there are more high-paying jobs and people can afford to shop. Quality of life improves. There's more money for schools and programs that lift people out of poverty. Everyone wins.
Many small businesses have made their commitment to their local community part of their brand, says Studer. This is what customers want. The more chaotic and uncertain the world becomes the more people crave a safe and stable home base. This is a huge trend, and it's taking place all over America.
"This is how you, the small business owner, can compete with the mega-retailers," he advises. "Create an experience for your community. Citizens will know they're being looked after, and they will want to do business locally. This can become your competitive advantage. Take care of the community, and it will take care of you."
The bottom line? Don't shop locally only during Small Business Week. Do it every chance you get, all year long. Studer says, "A purchase from a small business owner is an investment in your community. Who better to support than those who are working so hard to create a better future for everyone?"
Best Cities & States
20—Best Cities to Start a Business
Wallet Hub has issued its report on 2019's Best Small Cities to Start a Business with accompanying videos, and its 2019 Small Business Owner Survey and 2019's Best Large Cities to Start a Business and accompanying videos.
Top 20 Small Cities to Start a Business—Population less than 100,000
1
Holland, MI
11
Dania Beach, FL
2
St. George, UT
12
Carbondale, IL
3
Fort Myers, FL
13
Minot, ND
4
Redmond, OR
14
Boca Raton, FL
T-5
Cheyenne, WY
15
Deerfield Beach, FL
T-5
Huntsville, TX
16
Salisbury, NC
7
Bozeman, MT
17
Kearney, NE
8
Aberdeen, SD
18
Clearfield, UT
9
Bend, OR
19
Cedar City, UT
10
Wilson, NC
20
Springville, UT
You can see the full report and your city's rank.
Best Large Cities to Start a Business
1
Orlando, FL
11
Fort Worth, TX
2
Oklahoma City, OK
12
Jacksonville, FL
3
Miami, FL
13
Houston, TX
4
Austin, TX
14
St. Petersburg, FL
5
Tampa, FL
15
Dallas, TX
6
Charlotte, NC
16
San Antonio, TX
7
Durham, NC
17
Irving, TX
8
Raleigh, NC
18
Laredo, TX
9
Atlanta, GA
19
Oakland, CA
10
Denver, CO
20
Irvine, CA
You can see the full report and your city's rank.
21—Top 25 Cities for Small Business Growth in 2019
Biz2Credit says Miami is the "Best Small Business City in America," based on a weighted average that includes annual revenue, credit score, age of business (in months), and the company's proprietary BizAnalyzer score that factors in cash flow, debt-to-income ratio, taxes and other data. In its computation, Biz2Credit examined the financials of nearly 30,000 companies that applied for small business financing in 2018.
"Miami is the Gateway to Latin America," says Biz2Credit CEO Rohit Arora, who oversaw the research. "The city has a diverse economy, and it is in the midst of a real estate and construction boom. It also is a hub for travel and tourism and has a growing IT sector. Miami is a hot place for many reasons besides the weather."
For this analysis, Biz2Credit defined "small businesses" as companies having fewer than 250 employees or less than $10 million in annual revenues.  The Top 25 Cities for Small Business in 2019 (with 2018 ranking in parenthesis) are:
Miami, FL (No. 3) 13.  Seattle, WA (No. 14)
San Jose, CA (No. 2) 14.  Riverside, CA (No. 6)
San Francisco, CA (No. 4) 15.  Minneapolis, MN (Unranked)
New York, NY (No. 1) 16.  Phoenix, AZ (No. 11)
San Diego, CA (No. 9) 17.  Las Vegas, NV (No. 18)
Los Angeles, CA (No. 5) 18.  Charlotte, NC (No. 24)
Boston, MA (Unranked) 19.  Nashville, TN (Unranked)
Sacramento, CA (No. 10) 20.  Raleigh, NC (Unranked)
Baltimore, MD (No. 16) 21.  Detroit, MI (No. 20)
Washington, DC (No. 7) 22.  Oklahoma City, OK (Unranked)
Philadelphia, PA (No. 22) 23.  Houston, TX (No. 21)
Chicago, IL (No. 12) 24. Cleveland, OH (Unranked)
Pittsburgh, PA (Unranked)
They also say New York City is the top metro area when ranked by annual revenue, Oklahoma City has the youngest businesses and San Jose has the highest credit scores.
22—Top 10 States for Small Business Lending
Lendio just announced its fourth annual list of top 10 states for small business lending, based on loan data from the Lendio platform, which matches businesses with more than 75 lenders.
Though banks were slightly more open to approving small business loans in 2018, it's still a challenge for small business owners to access capital through traditional methods. According to the Federal Reserve Bank's 2019 Small Business Credit Survey, funding gaps are most acute for small businesses seeking $100–250K in financing. The report also shows that online lending platforms are bridging this gap, with 32% of small business loan applicants turning to online lenders in 2018, up from 24% in 2017, and 19% in 2016.
See the top 10 in the infographic below.
Small Business Stats
23—Relationships count: According to a recent study of 1,000 Americans by Intuit QuickBooks, 90% of U.S. consumers are more likely buy from a store where they feel they have a relationship with the seller. Furthermore, nearly half (49%) of Americans are much more likely to do so.
24—Best cities for women business owners: Cities with the most female entrepreneurs from Seek Business Capital
Small business stock photo by Alex Brylov/Shutterstock