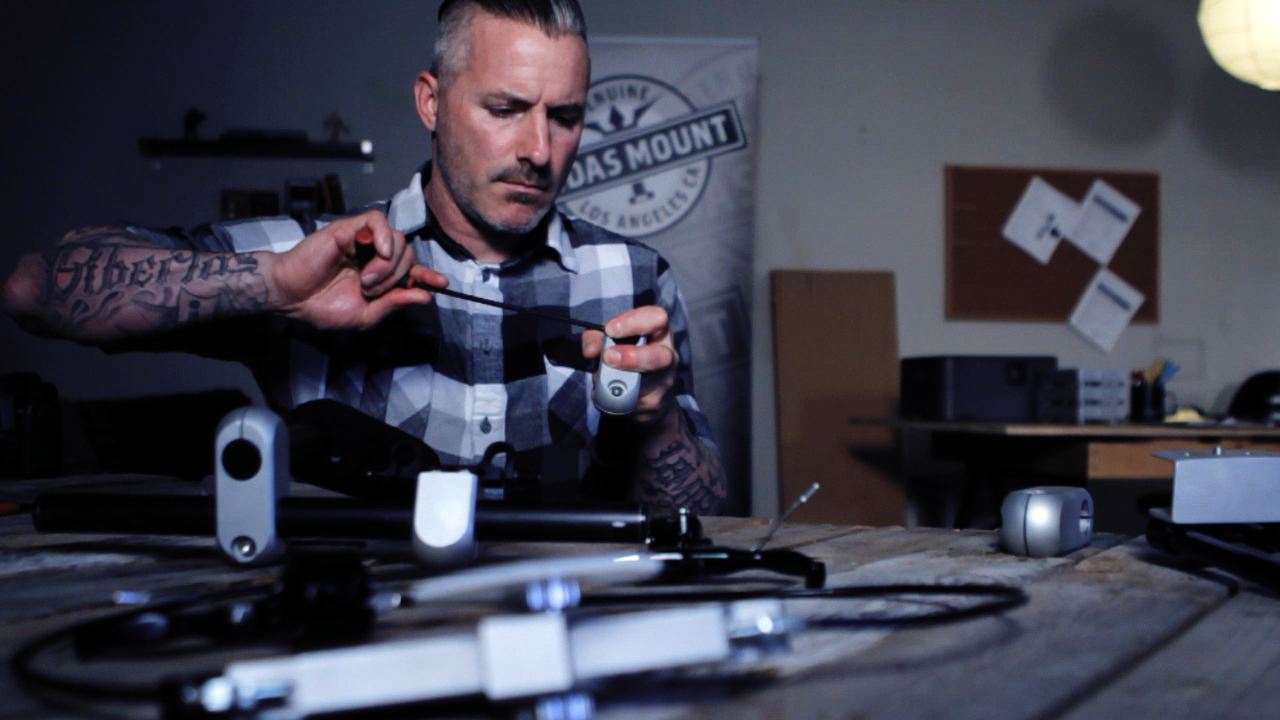 Sponsored By Microsoft
By Rieva Lesonsky
At least several time a week, I get emails from companies wanting me to write or tweet about their Indiegogo or Kickstarter crowdfunding campaign. Spurred by the legend of the Pebble Watch and other 'overnight' success, entrepreneurs are seeking their "fortune" via crowdfunding.
The reality is of course that the Pebble Watches are the exception; most crowdfunding campaigns don't raise that kind of money. But even when crowdfunding works, when the business owner raises money—that doesn't necessarily signal a happily ever after.
Meet Brandon Cole. Brandon won a contest from Microsoft—and I was one of his prizes—meaning he got me as a mentor—along with a Microsoft technology partner to help him improve his business with software and up-to-date hardware.
Brandon's tale is not unusual. He's a creative guy—works in the TV and movie industry—and one day while at his neighbor's house—in  the most jam-packed inventor's garage I've even seen—Brandon had an idea. With the sudden rise of indie video, Brandon realized it was especially hard for those creating the videos to focus the camera perfectly. So he created the SnapFocus—which he cleverly jerry-rigged from many parts—including some meant for bicycles.
The product was a hit at a few local camera stores—so Brandon, like most entrepreneurs, thought he was on to something. Passionate about the art of film and video, Brandon turned to Kickstarter and launched a campaign.
And it worked. He raised money. A good deal of it. Plenty of folks wanted to be part of his company, Midas Mount. But there was a hitch. Brandon couldn't fulfill all the orders. And like a snowball rolling down a winter hill, the problem kept growing, overwhelming Brandon's fledgling entrepreneurial venture.
As I said, what happened to Brandon wasn't very unusual. He's creative. He's inventive. He had an idea—a good idea—and thought he could turn it into a business. How many others, driven by the passion of what they do, plunge into entrepreneurship without really understanding business.
I loved working with Brandon. He really is dedicated to his craft. The problem with Midas Mount's products is they have many parts, which Brandon sourced from many different places, both here in the U.S. and overseas. And then, the products are handcrafted. Diligently and professionally put together. But it takes about six hours to make one—and Brandon and his team of two, make them in a shed he constructed in his backyard. The shed is small—so small only one person can craft a product at a time.
Brandon needed to find fewer sources (the more you order from one place, the steeper the discounts you are likely to get). In order to meet the backlog of demand from Kickstarter, he needed to get many products created quickly. I gave him the names of several production houses where he could out-source production. He needed to get a grip on his inventory too. There are plenty of systems out there to let small retailers and manufacturers do just that. He needed to reach out to his Kickstarter customers and explain what was going on. Like many of us, when he got overwhelmed with orders, he retreated. David Gersten, the Microsoft partner from Bond Consulting Services, helped him set up a Dynamics CRM system so he could separate his customers into groups and immediately communicate his situation, and tell them about the status of their orders.
All too many of us make similar mistakes. We plunge into business, without learning about the business part of it. There's a new wave of entrepreneurship that takes pride in the fact they don't write business plans. It's not a badge of courage to not write a plan. Even if it's not a bulky formal plan, every entrepreneur should do a plan before they launch. A plan, in this case, would have sounded the warning bells about the length of production that inevitably leads to slow delivery.
At the first sign of trouble, many of us do what Brandon did. We retreat. Instead of telling customers what's going on, we don't want to disappoint them, so we keep telling them everything is ok—or we stop telling them anything. Neither is a good solution. People appreciate honesty and we all should strive to run businesses that are more transparent.
Another truth is I think we learn more from adversity than success. If we're successful, we just keep doing what we're doing, even if there are different and better ways to do it. Some entrepreneurs rest on their laurels, and too quickly adapt an "If it ain't broke, why fix it mentality?" This is exactly the wrong thing to do.
No matter if your business is going smoothly, or experiencing a few bumps, like Brandon's, you should always be seeking and exploring. Like the explorers of history, there's always something new to uncover—and new to learn.