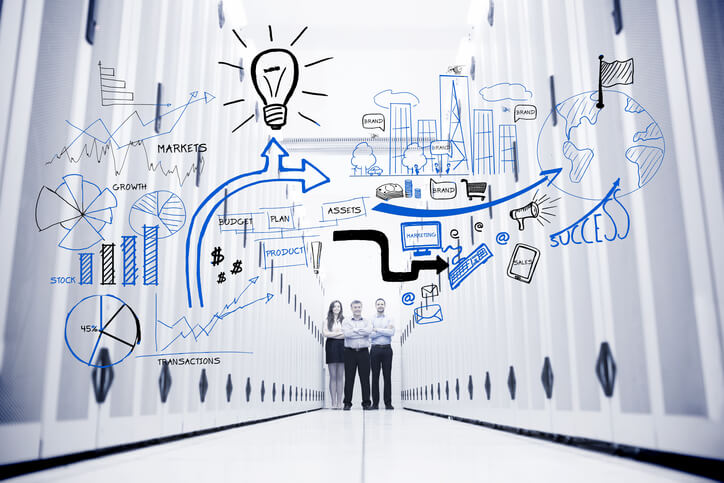 By Megan Bryson
The most popular social media apps have such a massive user base that it makes it hard to imagine they'll be replaced by other apps anytime soon. Applications like Facebook, WhatsApp, Instagram and Twitter are being used by hundreds of millions daily. Still, this isn't preventing startups from offering their own takes on the next best social media app.
Analyzing newly released social media apps helps both marketers and web developers. Predicting future social media trends helps marketers anticipate advertising trends, while web developers benefit from knowing all they can about future API integration. Even e-commerce web developers should be aware of these trends.
To get a clear picture of the most notable social media trends for 2017, we present you with the list of recently released social media apps, poised to make waves in the near future.
1. Yo
A year ago, an application named Yo generated a lot of hype, despite its incredibly simple concept. This is a one-tap notification app that lets you send a one-word message of "Yo" to another user. Despite its simple concept, the app managed to attract millions of users in a matter of weeks after its official launch.
Since its launch, the Yo app received several helpful features. Currently, the app allows users to send their location to a friend or service. Additionally, the app is also capable of using location-based data to provide recommendations, weather updates, news and even special promotion offerings. Even with these features, the app is still incredibly simple to use.
2. Airtime
Airtime is brought to us by Napster co-founder Sean Parker and is promising to bring us a new kind of social media network. This app came out of a group video chat service that was first launched in 2011. Its main concept hasn't changed and is still available in the recently released iOS and Android applications.
Using the Airtime app, you can create a room and invite other users to join. All users in the room can easily exchange different kinds of media that are usually experienced collectively.
Thanks to integration with popular third-party services like YouTube and Spotify, users can use different portions of other social media networks and add different kinds of files or data. Up to six people can post at once, while up to 250 people can watch what's happening in a room.
3. Shots Studios
Upon its launch, an app named Shots managed to attract millions of teenage users. It wasn't long after that we learned Shots was used by 10 million users every day.
However, this wasn't surprising since the app was associated with Justin Bieber, who co-founded it. Interestingly, Twitter once tried to acquire the Shots app for $150 million, but the offer was rejected.
In the meantime, the Shots app adapted a different concept. The app is now called Shots Studios and focuses on content creation. Built upon known concepts brought by Vine and Snapchat, the app is used to produce short videos. This social media app is using some well-known YouTube personalities like Lele Pons and Rudy Mancuso.
4. Peach
Peach was created by the founder of now-closed Vine, Dom Hofmann. It was imagined as a combination of Twitter and Slack, which really is a fascinating and never-before-seen combination.
The app's central interface is something called "magic words". These are trigger words used to add different kinds of media like GIFs, drawings, location and more, but you must instruct the app to do what you want.
Just like several other apps, it is trying to do certain operations and send messages to your friends without having to type more than one word. For example, you can type "here" to post your current location. Additionally, you can type "battery" to show your phone's current charge status, or "GIF" to search for a GIF that you want to post.
5. Wanelo
In a never-ending search for innovative concepts, Wanelo is an app that stands out. Its creators combined shopping with social media in an effort to attract new types of users.
The Wanelo app allows users to browse through different products offered both by major and independent brands. Furthermore, users can create lists, connect with other users and find out what their friends are interested in buying.
It is competing directly against social media networks like Pinterest, but it brings an entirely new angle. Its 11 million active users were more than enough for retailers like Urban Outfitters and 200 others to offer their products via Wanelo.
6. Anchor
While applications like Instagram and Snapchat are focusing on photos and videos, other social media apps are trying to exploit other kinds of media. Anchor comes with a tagline of "radio by the people," and it provides its users a way to share audio. However, the app is one-sided since it doesn't provide a way to directly exchange audio messages with other users.
To get started, all you need to do is sign up for a new account. This gives you the ability to create two-minute audio files, known as waves, which can be shared within the app or through other social media networks. Then, other subscribers can respond using their own waves.
7. Live.Me
Live-streaming is not a new concept, even though numerous startups are trying to redefine it. One of the startups is called Live.Me.
Having already attracted millions of users, Live.Me is a social platform for broadcasting and watching live stream videos. However, the app makes it incredibly easy to stay on top of the current live broadcasts, thanks to push notifications. This way, users are notified when someone they follow goes live.
In addition, these live streams don't just disappear but stay recorded and saved. The app is already promoted by some of the well-known names like Connor Franta and Gregg Sulkin.
8. Tuurnt
Tuurnt uses a well-known social sharing system. You can post videos and photos that can be seen by your friends. However, this social media app allows users to vote on videos and photos so they can stay visible for longer.
If your photos or videos fail to get enough votes, they will disappear from the network within 24 hours. It's clear that Tuurnt tries to turn strangers and silent users into active participants.
9. REX
REX was created by filmmaker Chris Smith who searched for a way to easily get recommendations on a variety of things from his friends. This is how the app was created, which at its core is a recommendation platform.
Using REX, you can make recommendations not only about music or books but also about restaurants and other places you like. However, what you see aren't just static lists.
For example, if someone recommends a movie, you can find out more about that movie from iTunes or Netflix. The same applies to music, where APIs are connected to Spotify and Apple Music.
Megan Bryson has been in Marketing and Advertising since 2011. She is passionate about helping clients and creating awesome content.