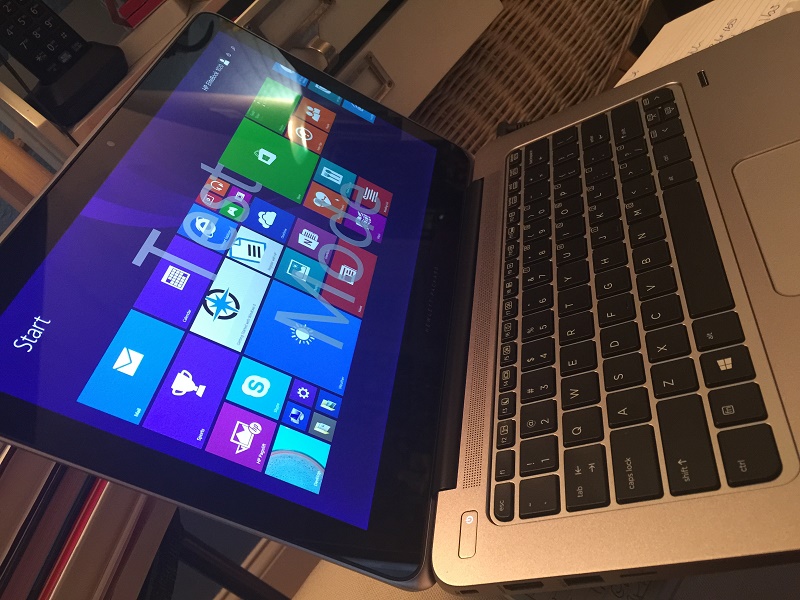 I was lucky enough, thanks to HP, to get my hands on a new laptop that won't be released until early next year. The HP EliteBook Folio 1020 is an extraordinarily thin (about ½ inch thick)—and light computer, weighing in at 2.6 pounds. (The 1020 Special Edition will weigh even less, a mere 2.2 pounds.)
The laptop is not only light, it's durable. While I haven't dropped mine (yet), the folks at HP tell me, like all the EliteBooks, the 1020 is designed to pass "military-grade" testing, which encompasses drops, shocks, vibrations and exposure to extreme temperatures. In all, the EliteBook goes through nine tests and 115,000 hours of testing for reliability and durability.
The EliteBook 1020 is the thinnest and lightest business-class laptop, according to HP (which calls laptops notebooks) and it has no moving parts. The computer is even slimmer than the much-touted MacBook Air. The lid and bottom are covered in forged magnesium-lithium alloy and carbon fiber. That means it looks and feels very current and cool.
One of my favorite things about the computer is—it's quiet. The computer doesn't have a fan—which, at some point in the life of every laptop I've ever owned, has gotten way too loud and disruptive. HP has equipped the computer with its "Noise Reduction Software" so I'm thinking this computer will essentially be a silent partner.
I'm pretty easy-going when it comes to laptops—except for keyboards. I type for hours and hours on end, and I'm really picky when it comes to keyboards. I love the keyboard on the EliteBook 1020. It's tight and responsive—and the backlighting is awesome. The touchpad is also very responsive and has a textural feel, which I really like.
Adding to my delight, the 12.5 inch screen is anti-glare and comes in a high-resolution Quad HD display. If I read that in a review, I wouldn't know what it means. So I'll just say the resolution is crisp, clear and bright. You will be able to order the computer with or without a touchscreen. Although there hasn't yet been wide-scale adoption of touchscreen computers among businesses, I found this screen to be very responsive to touch.
Being a business laptop, you'd expect this computer to deliver—and it does. It's fast (it uses Intel Core-M processor technology) and gives you about nine hours of battery life. Security is of vital importance to business owners, and these computers are secure and come with what HP calls "enterprise-class security, " including a fingerprint reader.
For so many small businesses, tech support is a big issue. HP doesn't leave you stranded. Buy this computer and you also get access to 24/7 HP Elite Premium Support.Support5
You can order any number of accessories and peripherals, including an ultra-slim docking station.
Alex Cho, HP's vice president and general manager of Commercial PCs says the EliteBook 1020 is a "game-changing innovation." Engadget calls it "sexy". It is both those things and more.
The EliteBook 1020 will be available in February and the Special Edition is due to be released in April. Prices haven't yet been determined.